The work at the new library is finally becoming routine. The funny thing is that I often end up doing layout for flyers announcing the library's events and activities! However the full schedule and the long commuting (nearly three hours per day!) are really taking their toll: on my first day off this week-end I slept twelve hours! I am not getting any younger, I guess.
I finally got and watched the dvd of
Ken Burns' documentary
on
Mark Twain
. Quite an interesting character. I'll never get tired of watching Burns' documentaries: he's always very interesting and I am glad that I still have many of his works to watch.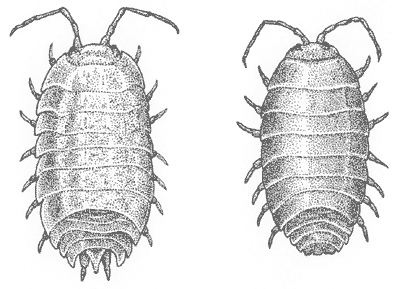 The unusually warm temperature of last week made all the snow disappear but the melting also created lots of humidity in the basement. Consequently, in the last couple of weeks, I've experienced an invasion of woodlouse (in french:
cloportes
). Fortunately, those small creatures (Arthropodes are not insects but crustaceans) are inoffensive but, still, it's rather annoying. I'll really have to take care of this humidity problem. Those cute little things are definitely the inspiration behind the
Ohmu
in Miyazaki's
Nausicaä of The Valley of the Wind
, so I can't really hate them.
I wrote a little but not as much as I wanted (as usual, I came back from work too tired to do much). I talked (in french) about the fact that
local libraries are now lending ebooks
. I wrote (again, in french) about the fact that many of my assistant librarian collegues are often over-qualified and
introduced two of them who are artists and are exposing their work in art galeries
. Finally, I
shared my weekly news scrapbooking
and a funny anecdote brought me to
reflect on freedom of religion
.
I also kept reading from my old notebooks (some dating as far as the 70s) and I am still amazed (okay, it is not that good but it is nevertheless quite interesting). I really must use some of those texts here...
However, what I would have really liked to do is share comments about movies and books. That's the purpose of this cultural blog after all. I keep borrowing books and dvds from the library or receiving them from publishers and I am getting quite behind in commenting them. Spring and warmer weather seems to give me a little more energy so I'll definitely increase my writing output in the coming weeks and months (and I'll take some day off to work on it).